PLOT - Armed with a potent combination of charisma, street smarts and martial arts expertise, Tony Fait (DMX) navigates the menace of the urban landscape with passionate precision, taking care of business and his fiercely loyal crew of professionals (ANTHONY ANDERSON, GABRIELLE UNION from Bring It On, Deliver Us from Eva) with a dedication surpassed only by his love for his young daughter Vanessa (PAIGE HURD).
After pulling off a complex heist involving a cache of black diamonds, Fait quickly comes fist-to-fist with Su (JET LI), a Taiwanese government agent who has pursued the extraordinary stones halfway across the world. As lethal as he is relentless, Su isn't just hunting down diamonds – he's hunting the ruthless Ling (MARK DACASCOS), his former partner, who kidnaps Fait's daughter in a ploy to exchange her for the stolen jewels.
But when word hits the street that Fait stashed the stones with his fence Archie (TOM ARNOLD), the diamonds promptly wind up in the hands of a powerful crime lord (CHI McBRIDE).
His back to the wall, Fait mobilizes his crew, suspends his strict no-guns policy and prepares to unleash every force at his disposal to save his daughter. But only Su knows Ling well enough to anticipate his every move – and after he dispenses with Ling's operatives in an explosive display of martial prowess, Fait realizes Su could be his best hope for bringing Vanessa home alive.
Adversaries by code but allied by circumstance, the master thief and the enigmatic agent join forces to wage war on their common enemy: Su to exact revenge against the man who once tried to take his life and Fait to rescue Vanessa, the one person that he cannot live without.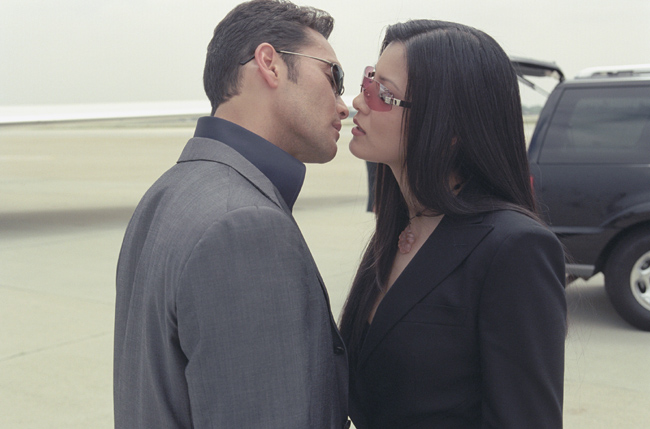 MARK DACASCOS' INVOLVEMENT
It was through Jet Li that kickboxing champion and martial arts expert Mark Dacascos was cast as Su's nemesis, the sadistic Ling.
"We did a survey through my website," Li explains. "We asked my fans who they would most like to see me fight on screen, and the overwhelming response was Mark."
"I've been a Jet Li fan for seventeen years, maybe longer," enthuses Dacascos, the child of kung fu instructors who has been studying martial arts since he was four years old.
"The first film I saw of Jet's was The Shoalin Temple. It was incredible, and ever since then he's been one of my heroes. I was thrilled to get the opportunity to work with him in Cradle 2 the Grave."
Indeed, Dacascos prepared intensely for his physically demanding role. "I tried to anticipate what Jet might throw at me, but then I realized it wouldn't matter because he's so incredibly fast I probably wouldn't be able to see it," he jokes. "But I trained even harder than usual so I would give him an exceptionally good fight."
KELLY HU FACTOR - Black belt bad girl Kelly Hu (The Scorpion King), who has been referred to in the media as a "karate hottie" for her striking combination of drop-dead beauty and martial arts expertise, portrays Ling's lethal sidekick Sona.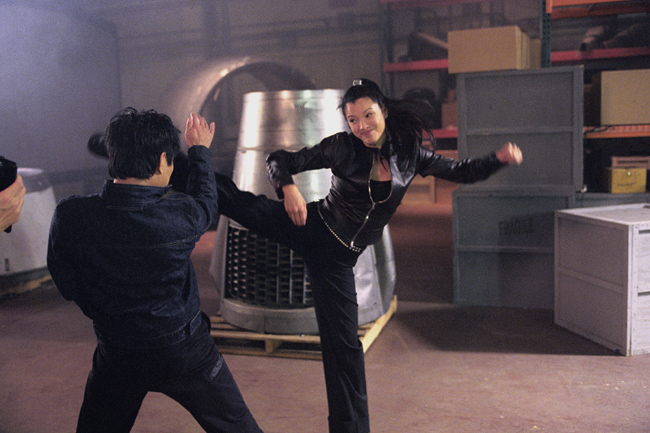 "Working with Mark has been amazing," says Hu. "He kept surprising me with his ability, pulling off moves I didn't think anyone could do. He's a true martial artist and a gentleman."
COREY YUEN'S FIGHT CHOREOGRAPHY - Another key player in creating Cradle's dynamic fight sequences is legendary martial arts director (Lethal Weapon IV, Romeo Must Die).
For weeks prior to production, Li and Yuen developed and choreographed the film's numerous intense and intricate fight scenes. "Corey and I have the same philosophy about action movies," says Li, who has worked extensively with Yuen in Hong Kong and the U.S. "The character and the story are more important then the punches."
Li and Yuen's choreography for the brutally fierce Cradle fight sequences are driven by character and an understanding of the actors' diverse fighting styles. "We examined each of the characters and the different situations they confront and then designed a variety of moves and fighting styles to suit them," Yuen explains. "The characters not only have their own personal fighting style, they also apply specific moves to specific situations. They have to use different types of martial arts for different purposes: to stop someone, to injure or to kill."
At the outset of production, Yuen and Li established an original fighting style for Li's character Su, the enigmatic Taiwanese Intelligence agent whose one-handed prowess proves he is without equal.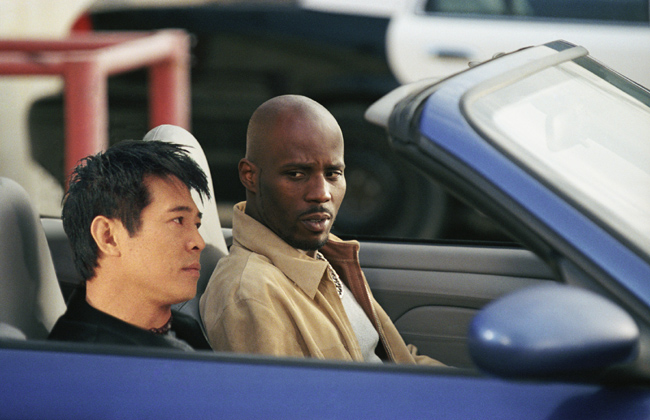 "The first fight sequence we shot was when I mix it up with Drag-On in the subway," recounts Li. "Corey choreographed this quick series of moves, but I had nothing to do with my left hand, so I put it in my pocket and only used my right hand to fight.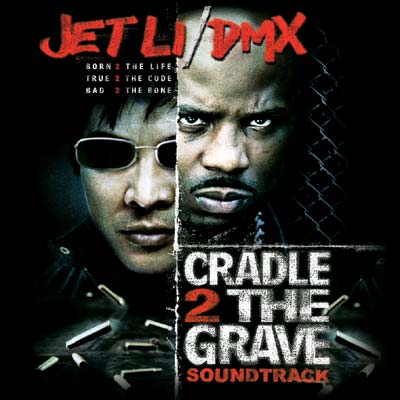 Andrzej liked it, so we decided to make it Su's signature style. He only fights with one hand except when he's going for the kill, at the end of the film when I take on Ling in the ring of fire."
SOUNDTRACK - Cradle 2 the Grave is enhanced by a cabal of the music industry's top-selling recording artists, several of whom are signed to DMX's label, Bloodline Records. DMX wrote and recorded three original tracks for Cradle, including "Right Wrong," a song that underscores a central theme of the film. "X Gon' Give It To Ya," the first single and video from the film, was crafted by DMX in less than two hours at a Chicago recording studio.
The Cradle soundtrack also features "Go To Sleep," DMX's forceful collaboration with hip-hop impresario/actor Eminem, as well as tracks from 50 Cent, Clipse, Fat Joe, Foxy Brown, Drag-On and Bloodline recording artists Bazaar Royale, Kashmir and Big Stan.

MARK DACASCOS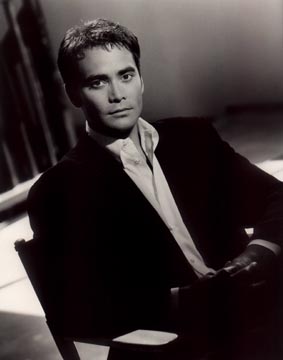 With well-received roles in both television and film, MARK DACASCOS (Ling) is well on his way to becoming a sought-after leading man.

Dacascos was most recently seen in the French box-office hit and critically acclaimed Brotherhood of the Wolf (Le Pact Des Loups) opposite Monica Belluci, Samuel Le Bihan and Vincent Cassell.

Brotherhood of the Wolf is based on a well-known French legend about a mysterious creature who is laying waste to the countryside in a rural province in France and savagely killing scores of women and children. Dacascos plays "Mani," an Iriquois Indian who befriends the wolves of the forest to unearth the Beast's lair.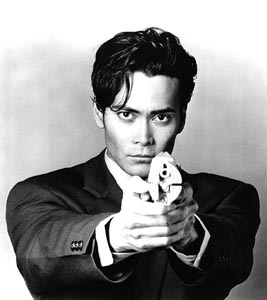 Dacascos is an exotic blend of Japanese, Chinese, Filipino, Spanish and Irish. His parents were both internationally recognized martial arts champions who established dojos all over the world.

He was born in Hawaii, but raised primarily in Hamburg, Germany, where he won his first martial arts tournament at the age of eight. At eighteen he took the European Championship title.

Dacascos was seen in Stanley Tong's China Strike Force starring opposite rapper Coolio, and in Gustavo Graef Marino's The Perfect Husband based on the best-selling novel.

Dacascos starred in the hugely successful syndicated television series The Crow: Stairway to Heaven, which was inspired by the feature film, and in many cult favorite action films including Crying Freeman, Drive and Only the Strong.